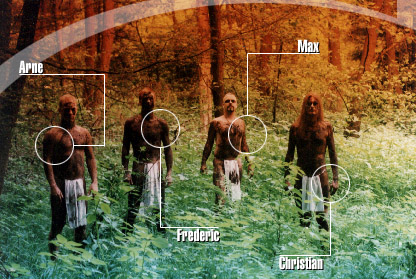 Marcus Testory: Vocals/Guitar born on the 5th of May 1967
"There's nothing as real and brutal as me. I am the truth."
If you want to understand the way I´am just read my lyrics.
Frédéric Hauschild: Guitar born on the 1st of January 1967
To go out and to stand the rain takes a lot of courage but to live life the way you want to is the hardest thing in the world.
Christian Huhndorf: Bass born on the 10th of August 1971
Because of a lost love I divert my mind with daily jam sessions, today I rather lie in the grass than to fight against the check clock.
Arne Klewitz: Drums born on the 1st of Oktober 1975
Once upon a time I loved to play the drums, to ride my motorbike and to kill my computer now the Simpsons are my meaning of life.